Discover more from Word Stack
Deconstructing the work of good journalists.
Creating Suspense and Mystery in Your Writing
Using atmosphere and misdirection to add drama to your stories - A case study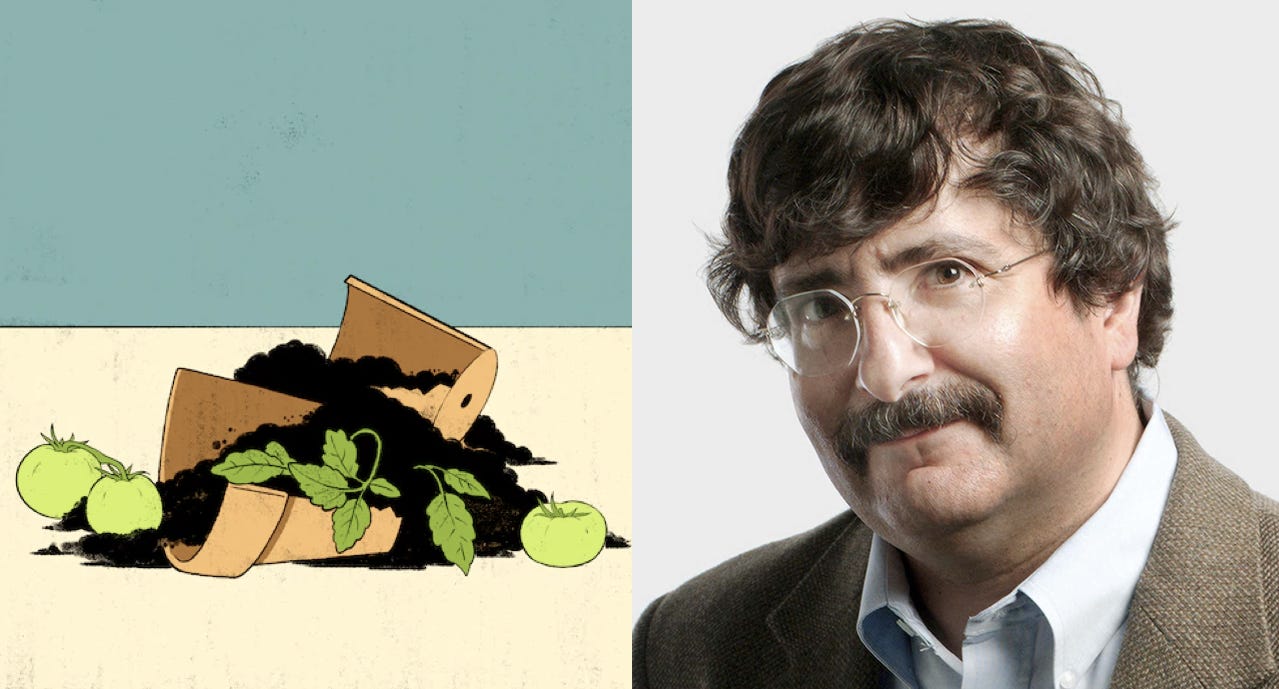 Did you hear the one about the tomato plant?
Suspense is a powerful tool for getting readers hooked into a story. Now-a-days, suspense and mystery tend to be associated with detective novels and movies, which are often long and complicated. For writers, it can feel like mystery and dramatic twists can only be created as part of a tangled plot. But, when we analyze these stories carefully, we can see the essential components of suspenseful writing can be woven into very simple stories.
Gene Weingarten is a two-time Pulitzer Prize winning columnist at the Washington Post. He is mostly known for his humorous work, but has strong credentials handling more serious topics. His story, "A neighbor asked for a tomato. This is where the story gets weird." was widely circulated on social media. This is a perfect case study in using suspense in your writing. Weingarten is able to take a bizarre story from his own life, and shares it in a fashion that is jaw-dropping.
This article provides a dissection of Weingarten's story, and analyzes some of the features that make it work. While it is possible to read this guide without first completing Weingarten's story, I strongly recommend you read it. "A neighbor asked for a tomato," is very short — less than a five-minute read — and very good. This guide will be written on the assumption that you have read Weingarten's story.
Atmosphere
Suspense and mystery stories are very deliberate in creating a specific atmosphere or mood. By heightening a sense of tension or discomfort it stimulates the flight-or-fight response of the reader. This energy builds up as we read, which drives the story forward.
Overlooking the atmosphere in writing is quite easy. Character and plot are the focal points of any story, but mood and tone do a lot of work in pushing the narrative. Take this example (derived from Ira Glass).
The man wakes up. He sits up in bed, scans the bedroom, and he listens carefully. He hears nothing. Then, he slowly makes his way to the door, and peaks his head into the hallway. Silence. Quietly, he closes the door behind him, and makes his way downstairs. Standing motionless in the foyer, he focuses. Not a sound.
From the perspective of character and plot, this is the most boring story possible. A featureless man has woken up and walked down the stairs of his house. The end. By drawing attention to the quietness of the house, we are put on edge, waiting for something to break that silence. The eerie atmosphere is enough to build tension and keep you reading.
In "A neighbor asked for a tomato" the author does a tremendous job of creating a mood of subtle suspicion and unease. The first two paragraphs do this most powerfully.
The following account is completely true, and, no, there is nothing funny about it.

I was on my laptop in the dining room of my rowhouse in downtown Washington, D.C., when someone rapped at the window. There was a man there, in my backyard. This is a good neighborhood, but a gritty one. Cautiously, I cracked the door.
Paragraph one is a single line, but it already does a tremendous amount of work to raise the drama of the story. As noted above, Weingarten is generally a humour writer, so it is useful to point out that there is no hidden joke to look for, but this advisory serves a broader purpose. It sets you on edge. It is like someone starting a story by saying "Did you hear the one about the…" or "You are never going to believe this!" Open-ended foreshadowing such as this elevates the energy of the story from the outset.
For the second paragraph, Weingarten pushes that mood further. He uses the word "rapped", as opposed to more neutral alternatives like "knocked" or "tapped". "There was a man there, in my backyard." has an ominous tone. He then notes his neighborhood is "gritty". Weingarten then says he "cracked" the door open "cautiously". Given that almost nothing interesting has happened, the author has already pumped a ton of suspicion and discomfort into the story.
From here, Weingarten does bring the tension down, but you are never left to feel completely comfortable. Seth's masklessness is a sign of his lack of concern for others. The author mentions that he feels "suspicion" when he is asked for the whole tomato plant. For the altercation with police, Seth "became violent and smashed the window of a firetruck". In each case, the author has chosen language that makes us feel defensive and threatened.
It should also be noted that good writers don't overdo things. Imagine if Weingarten had decided to portray Seth in a more menacing manner. "He was in his early 30s, powerfully built. His hands were buried deep in his pockets, and his eyes were darting back and forth, carefully examining the property. Sharp eyes darting between the door, the window, and the perimeter of the lawn." In this case, Seth is so shady that it isn't believable that Weingarten would open his door to greet him, much less give him a plant from his garden. Over-dramatizing every moment feels cheap and fake. Rather than setting the drama at a raging boil from the second paragraph, Weingarten maintains a low simmer, which slowly grows until we reach the final reveal.
Misdirection
In Weingarten's story, he puts a ton of emphasis on the tomato plants. The title for the story refers to the tomatoes. The header image shows a tomato plant. Both the encounters with Seth discuss the tomato plants. Even when Weingarten is looking through the junk Seth was trying to sell, the author refers to the plants. From the moment the story begins, we are being pushed to figure out "What is up with these tomatoes?" When we finally get to the end, we realize we have been distracted by the tomatoes, and we should have been thinking about the dead mother!
Why is this misdirection necessary? And why does Weingarten push it so hard? First, it provides a mystery to be solved, which captures attention. By just reading the title we are curious about the tomatoes. Taken in the abstract, the first few paragraphs of this story are pretty dry — guy comes over and asks for a vegetable. Who cares? Since Weingarten has deliberately foregrounded the importance of the tomatoes, this creates a mystery for us to solve, allowing our curiosity to pull us into the story.
Misdirection also allows you to draw attention away from what is really going on. I don't know about you, but I gasped when I read the last line. I didn't suspect anything! Magicians use misdirection to create the illusions. As long as your focus is directed at A, you don't see what is happening with B. If Weingarten had put more emphasis on the mother in the title or the opening paragraphs I expect more people would have seen the twist coming, making the story less satisfying.
The Payoff
What is the same between suspense and comedy? It's all about the punch-line.
Endings on any mystery or suspense story are incredibly important. Remember that story about the man walking around his quiet house? That story is bad. Not only are the plot and characters weak, but it builds up tension that leads nowhere. On the other hand, you could imagine an alternate ending where something totally crazy happened ('A monster crashes through the floorboards and eats the man whole!') that is just as unsatisfying. Conclusions need to make sense within the context of the story.
"Making sense" may seem like a low bar for plots, but this goes beyond just plot holes and inconsistencies. Using the example of "A neighbor asked for a tomato," and keep it exactly the same, except we changed the last word:
"He's been charged with murder. He strangled his

wife

."
(I know this a true story, but bear with me)
This ending doesn't break any rules. It doesn't cause a plot hole, and is about as believable as the original ending. But this ending isn't nearly as good! We didn't hear anything about Seth's wife, so it feels cheap to magically conjure up this woman, only to kill her.
Seth's character progression is also changed in this alternate version. Initially, we feel sorry for him, as he is grieving his mother's death, but later on we sense that his mother's death has caused a nervous breakdown. In the version where Seth has killed his wife, we might think "Eek, I guess his mother's death really pushed him over the edge." while the original makes us think "Holy crap! This guy was a lunatic the whole time!" Exposing Seth's 'true nature' is one of the many features that allows this story to resonate.
For those who have watched shows like CSI, you will recognize a trope where the "bad guy" is introduced in the first half of the story. The detectives will spend the first 45 minutes chasing down dead ends, until they finally realize that the culprit was the first person they talked to. It feels bizarre to see the same shtick used again-and-again, but in order for the ending to feel complete, it needs to have some grounding in what has already happened in the story. Closing the loop is satisfying for some reason, even when the outcome is predictable. It is even more enjoyable when the conclusion is unexpected, as was the case with Weingarten's article.
---
"A neighbor asked for a tomato. This is where the story gets weird." is an instant classic. Other than a few details, this story feels like it could be told from any time in history. It embodies some of the most important features of the mystery/suspense genre in a tight package. Honestly, this story should be taught in middle-school English class, as it is such a simple and effective execution of the fundamentals of good storytelling. Such studying such a timeless piece is a great opportunity to sharpen your writing.
---
More from the author: website, email, Twitter, Medium profile